[Answers to Friday April 24th Daily Dingbat: AM – No idea, PM – End of Term]
DAILY CHALLENGE: STAND UP, SIT DOWN
How many times in a minute can you stand up and sit down from a normal height chair (dining room chair for example)?
Keep your back straight and don't use your hands.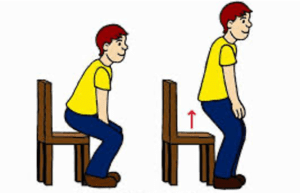 GOLD MEDAL: 55 +
SILVER MEDAL: 30-54
BRONZE MEDAL: 0-29
DAILY GAME: GOLDEN SNITCH
Number of players: 3+
Equipment:
Tennis balls, soft balls, airballs, one a different colour or marked to be the golden snitch
Tennis racquet ideally but it is also possible to play this if the balls are thrown
Bucket or flowerpot to collect each player's balls
Aim:
To collect the most amount of points from gathering the balls 
Playing space:
Garden/open air
How to Play:
1 person is the leader. The balls are given points values (eg blue = 1, green = 2, red = 3, golden snitch = 10)
The leader hits the balls or throws them, into the open space, taking care not to hit any over a fence! The players chase the balls and grab as many as possible to put into their team's bucket or pot.
The winning player is the one with the highest points at the end of the session.
Swap leader to give everyone an equal turn.
Variation
Don't reveal the points for the balls until the end.