DAILY CHALLENGE: DEAD BUG STRETCH
Start on your back on the first position shown in the pictures. Stretch out opposite arms and legs alternately before coming back to the starting position. How many can you do in 1 minute?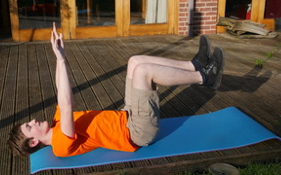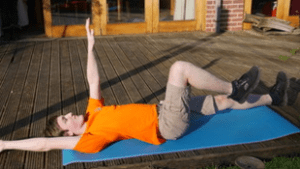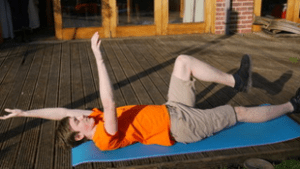 GOLD MEDAL: 36+
SILVER MEDAL: 26-35
BRONZE MEDAL: 0-25
DAILY GAME: BUCKET AND BALL
Number of players: Ideally 4. This game is played in pairs. If there is an odd number, players take turns to throw. This can also be played in teams if there are more players.
Equipment:
1 bucket per pair or team. The same number of toys/balls/beanbags per pair/team.
Playing Space:
Garden or indoors.
Aim:
To be the first pair/team to get all the toys, balls or beanbags into the bucket.
How to play:
1 of each pair holds the bucket (catcher) and stands 3m away behind a throwing line from his/her partner with all the toys/balls/beanbags (the thrower). On the word go, the thrower throws the items one by one and the catcher must catch them. If the item falls to the ground the thrower collects it and goes back to the throwing line and tries again. When all the toys are in the bucket the pairs swap roles and repeat. The winning pair is the one who has all items in their bucket after both have had a turn throwing. If more than 2 players on a team this can be done as a relay with throwers alternating.