DAILY CHALLENGE: SPEED BOUNCE
How many two-footed jumps can you complete over an object (side to side) in 30 seconds? (Use an object about 15cm high)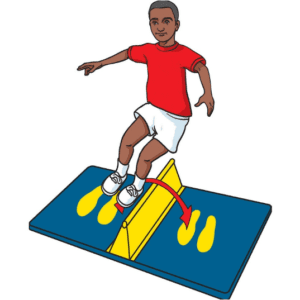 GOLD MEDAL: 45 +
SILVER MEDAL: 20-44
BRONZE MEDAL: 0-19
DAILY GAME: BARNEY'S BALL GAME
(fielding nothing but net challenge)
Number of players: 1+ a thrower
Equipment:
5 tennis balls, 1 small goal (or could use a cardboard box or similar)
If playing inside, use soft balls
Starting line 
Playing Space:
Garden, outdoor space or room with chairs pushed back
Aim:
To score 15 points
How to play:
Each ball is worth 3 points.
The players and thrower stand behind the starting line. Just along the starting line away from the thrower is the goal (or box turned on its side with the open part facing the open space).
The thrower has all 5 balls and rolls 1 ball out into the open space. The player runs after the ball and retrieves it before it stops. 1 point scored.
The player then rolls (inside) or throws (outside) the ball into the goal (or box). 2 points scored if it lands inside, 1 point scored if it touches any part of the goal/box but bounces out.
The player has 5 goes to try to achieve 15 points.
Player and thrower then swap.
The person with the most points wins the round.
This can be varied by moving with different body parts (eg crawling if inside).