DAILY CHALLENGE: JUGGLING
BRONZE MEDAL: Can you juggle with two balls?

SILVER MEDAL: Can you juggle with three balls?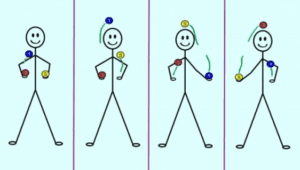 GOLD MEDAL: Now try FOUR!!

DAILY GAME: SPRINT THE COMPASS
Number of players: 2+
Playing area:
Ideally outdoors but could be modified for indoor space
Equipment:             
Cones or pots to indicate a large circle with 4 larger pots or hoops if available to indicate north, south, east and west.
Aim of the game:
To be the first team/player home
How to play:          
Divide into equal teams (max 4 per team). Each player from each team chooses a compass point to lie down by, lying flat on their tummy. The leader shouts 'north', 'south', 'east' or 'west'. The players lying by that compass point get up and run as fast as possible anti clockwise to the next hoop/pot or the next compass point where their teammate is. They touch the hand of their teammate, who then stands up and runs to the next team-mate and so on. The incoming player lies down by their team mate's hoop/pot. Play continues until everyone is back at their original hoop/pot.
Try starting from different start positions (sitting, on all fours, lying on your back etc.)