DAILY CHALLENGE: CHEST PASSES
How many Chest passes can you complete with a partner in 1 minute? (If you don't have a partner you can do this against a wall)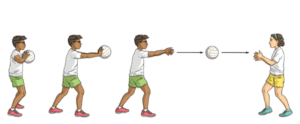 GOLD MEDAL: 55 +
SILVER MEDAL: 30-54
BRONZE MEDAL: 0-29
DAILY GAME: DRAGON'S TREASURE
Number of players: 2+
Equipment:
A pile of beanbags, cones, toys and a hoop or box
Playing area:
Garden or can be played indoors
Aim of the game:
To steal the treasure from the dragon
How to play:
Set out a start line with two cones 10 paces from a hoop/box. Nominate one player to be the dragon who stands by the hoop/box with his or her back to the others. Spread out the treasure behind the dragon. All other players line up behind the start line facing the dragon.
The Leader quietly indicates 'go' and the players move forward to try to steal the treasure, but they must FREEZE if the dragon turns round. If a player carries on moving, they return to the start line and try again. The dragon chases anyone who has taken the treasure and tries to catch them before they reach the start line. If the dragon catches any player, the dragon wins the game.
The game can also be played with more than 1 dragon.