DAILY CHALLENGE: BURPEES
How many 'Burpees' can you complete in 30 seconds?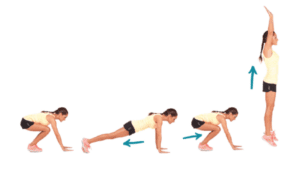 GOLD MEDAL: 15 +
SILVER MEDAL: 8-14
BRONZE MEDAL: 0-7
DAILY GAME: HAND HOCKEY
Number of players: 2+
Equipment: 1 tennis ball (soft or air ball if playing inside)
Playing Space:
Garden or indoor room with furniture pushed back. 2 goals to be created eg using cones, pots or a small table on its side facing the playing area. Define the side and back lines of the playing space.
Aim:
To score the most goals
How to Play:
Each player has a goal to defend. Only the hand can touch the ball and the ball cannot be held, only dribbled/tapped along the ground. It cannot be thrown. Players take it in turn to start with the ball. The aim is to score a goal and the player with the most goals wins. More than 1 player can play on a team.