DAILY CHALLENGE: GOALS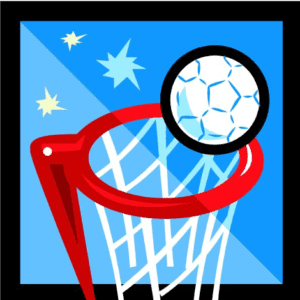 How many goals can you score in one minute?
If you haven't got a netball post use a bucket and throw from 5 paces away.
GOLD MEDAL: 15 +
SILVER MEDAL: 7-14
BRONZE MEDAL: 0-6
DAILY GAME: HOLE IN ONE
Number of players: 1+
Equipment:             
9 pots, 1 beanbag, small ball or rolled up paper into a ball per player, 9 markers, 1 score card per player. If playing inside use cups and rolled up pieces of paper. Number each pot to correspond with each marker, 1-9.
Aim of the game:  
To score holes in one!
Playing area:
Whatever area you have available. Indoors or out.
Set out 9 pots around the playing area with a marker 5 paces away from each (adjust if indoors – you could put them around the house for example).
How to play
Each pot represents a hole on a golf course and the markers are the tees. Each player starts with one bean bag and stands beside a marker. The player tries to throw the bean bag from the marker to the corresponding pot in as few throws as possible, recording his/her score. The player moves to the next marker and continues until all 'holes' have been played. The player with the smallest number of total throws is the winner.
The game can also be played in pairs or teams of 4 with each pair/team starting at a different marker and all players in a pair or team having to get the beanbag into the pot before the pair/team moves on.
If there's a tie the player/team with the most holes in 1 is the winner.