DAILY CHALLENGE: SINGLE LEG BALANCE
How long can you hold the 'Single Leg Balance'……… (If you can do this with your eyes open, then try it with them closed)!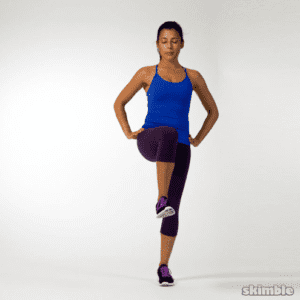 GOLD MEDAL: 1 minute +
SILVER MEDAL: 21-59 seconds
BRONZE MEDAL: 0-20 seconds
DAILY GAME: CROSS THE LINE
Number of players: 2+ (if only 1 play against the clock)
Equipment:             
2 large balls (footballs); bean bags. Mark 2 lines, one either side of the playing space.
Playing area:          
Garden ideally. Place a large ball in the centre of the playing space.
Aim of the game:  
To move the ball over the opponent's line
How to play:
Players are divided into two teams (1v1 if only 2 players). Each player has a bean bag. If there is only 1 player on each side, he/she can have a pile of beanbags (same number of each player). One team stands behind one of the side lines and the other team stands behind the opposite line, facing the other team, with the ball in between the teams. When the Leader says 'go' the players throw their bean bags at the ball to move it forwards and over the line where the opposite team is standing.
More than 1 ball can be placed in the middle and the winning team is the first to get any of the balls across the opponents' line.