DAILY CHALLENGE: SKIPS
How many skips can you do in 1 minute?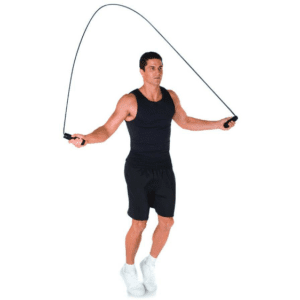 GOLD MEDAL: 150 +
SILVER MEDAL: 100-149
BRONZE MEDAL: 0-99
DAILY GAME: LEFT OR RIGHT
Number of players: 2+ a Leader
Equipment:             
Red (left), yellow (middle) and green (right) cones or coloured items. Set out three parallel lines (marked by red, yellow and green cones) equally across the playing space.
Playing area:          
Garden ideally
Aim of the game:  
To be the first to the line and back
 How to play:
Players line up on the centre line (yellow). On the Leader's command, they move to the red (left) or green (right) lines as fast as they can and back to their starting point. The first player back wins a point. First to 3 points wins the game.
Vary by moving in different ways – hopping, skipping, jumping, fast walking etc.