DAILY CHALLENGE: STANDING LONG JUMP
How far can you jump starting and ending on two feet?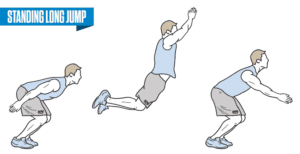 GOLD MEDAL: 1.50m +
SILVER MEDAL: 76-149cm
BRONZE MEDAL: 0-75cm
DAILY GAME: ZIG ZAG TREASURE RELAY
Number of players: 1+
Equipment:
For each player, set a line of cones, pots or dishes in a zig zag between a start line and a pile of cones or other items (treasure) to collect.
Playing Space:
Garden, hall (depending on number of players)
Aim:
To be the first player back with all the treasure.
How to Play:
Players stand behind the starting line facing their zig zag line. On the word 'go' he/she runs zig zag cone to cone, collects one of the objects from his/her pile at the end and runs back to the start line before going again. Only one item can be collected at a time.
If played with 1 person this can be against the clock. It can also be played in small teams.
Variations:
Travel in a different way (on all 4s, sideways, tiptoes, long strides etc)