DAILY CHALLENGE: STAR JUMPS
How many star jumps can you do in a minute (make sure your fingers touch above your head)?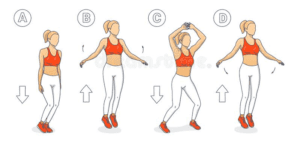 GOLD MEDAL: 55 +
SILVER MEDAL: 30-54
BRONZE MEDAL: 0-29
DAILY GAME: CRAWL AND WIGGLE
Number of players: 2+ (or can be played against the clock if only 1 player) 
Equipment:
Cones, cans or pots (approx. 20) set out in 2 parallel lines with enough space to move between them.
Pile of 'treasure' (toys, beanbags etc) in a heap at one end of the 2 lines.
Box or bucket to put the treasure in at the starting point.
Playing Space:
Garden, hallway or room with furniture pushed back.
Aim:
To have the largest number of treasure items at the end.
How to play:
If there are 2 players, each 1 lines up at the end of the line of cans, opposite to the end with the treasure. If more than 2 players, play in teams as a relay.
On the word go, players crawl on all fours across the line of cans/cones, grab an item of treasure and then run back in and out of the cones (wiggle). The player/team with the most items of treasure wins (or the first one back if players have the same number of items).