DAILY CHALLENGE: PRESS UP CLAPS (NOTE: VERY DIFFICULT)
Start in a press up position. Keeping back straight, push up and clap hands together once before returning to the push up position and completing the move. This can also be done from knee push ups.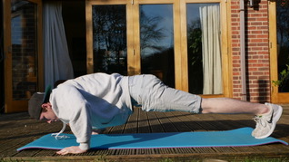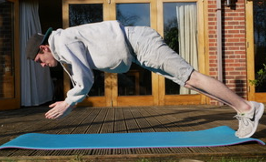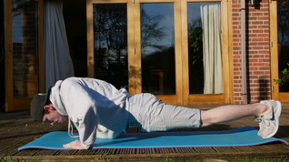 GOLD MEDAL: 5+
SILVER MEDAL: 3,4
BRONZE MEDAL: 2
DAILY GAME: BUCKET SLING
Number of players: up to 4 per team
Equipment:
One bucket/box, 4 bean bags/toys, 4 cones per team
Set out the cones like the diagram (give some space in between each team)
Playing space:
Garden ideally but if indoors could be played in a hallway or a room with furniture pushed back.
Aim of the game:
To score the highest number of points
How to play:
Divide into equal teams and give each person a bean bag (or toy). Taking turns, each player tries to throw their bean bag/toy into the bucket, adding up their scores individually. When everyone has gone the team adds up its scores. Repeat and try to beat the last score.