DAILY CHALLENGE: GOALS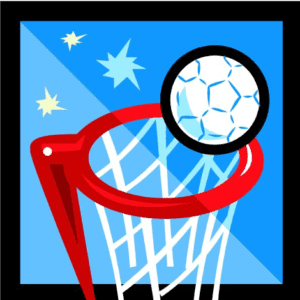 How many goals can you score in one minute?
If you haven't got a netball post use a bucket and throw from 5 paces away.
GOLD MEDAL: 15 +
SILVER MEDAL: 7-14
BRONZE MEDAL: 0-6
DAILY GAME: BODY BALL RELAY
Number of players: Can be played with 1 or more players
Playing Space:
Garden, yard, hallway, room
Equipment:
1 football ball per player, (softball if indoors); 4 cones, dishes, toys, flowerpots or similar objects to mark a course.
Place the 4 objects in a line with a space in between each to be able to dribble the ball.
Clock or watch to time if only 1 person is playing. 
Aim:
To dribble the football round the course and back in the fastest time, using the different body parts listed below. If there is more than 1 player create a line of 'cones' each or for more than 2 players work in teams playing against each other.
How to Play:
On the word 'go' dribble the ball in and out of the objects and back to the start keeping the body part on the hall. Record your time for each and see which is the fastest part of the body. If there is more than 1 player, play against each other:
Left foot
Right heel
Left elbow
Right knee
Left hand
Variations:
Use other body parts.