DAILY CHALLENGE: SINGLE LEG BALANCE
How long can you hold the 'Single Leg Balance'……… (If you can do this with your eyes open, then try it with them closed)!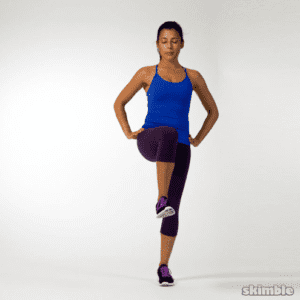 GOLD MEDAL: 1 minute +
SILVER MEDAL: 21-59 seconds
BRONZE MEDAL: 0-20 seconds
DAILY GAME: MESSY BEDROOM
Number of players: 2+
Equipment:
Soft balls, beanbags, toys, other small non sharp items.
Cones or rope to split the playing area in half.
Playing Space:
Garden or outdoor space.
Aim:
To 'mess up' the opposing team's "bedroom" by throwing balls/items into it
How to Play:
The players stand either side of the centre line, each in a 'bedroom'. The balls, toys and small objects are split equally into each 'bedroom'.
On the word 'go' the players throw the objects into the opposition's "bedroom" who try to throw them back and keep their own "bedroom" clear.
The game ends either when one bedroom is empty, or after a specific time limit. At the end of the time limit, the player with the fewer objects in their bedroom is the winner.