DAILY CHALLENGE: JUGGLING
BRONZE MEDAL: Can you juggle with two balls?

SILVER MEDAL: Can you juggle with three balls?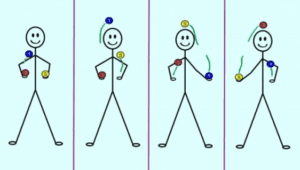 GOLD MEDAL: Now try FOUR!!

DAILY GAME: SKITTLES
Number of players: Can be played with 1 or more players
Equipment:
Cones (flowerpots or plastic bowls) with a large ball on top. You could also place a toy on top instead.
1 tennis ball or beanbag per player.
Clock or watch to time if only 1 player is playing.
Playing Space:
This game involves throwing so if playing indoors (eg in a hall) make sure there is nothing which can be knocked over and damaged.
Line up the cones/dishes/pots with the balls or toys on top, ideally at a distance 3m away from a throwing line.
If you have more than 1 player, each should have the same number of items to hit and one ball/beanbag to throw.
Aim:
To throw the ball or beanbag underarm to knock the large balls/toys off the cones/pots in the shortest time.
How to Play:
On the word 'Go' the clock starts and the player(s) try to knock the balls/toys off the cones/pots. The clock stops when all are knocked off. You cannot throw the ball/beanbag overarm. Have 3 goes and see if you can beat your time.
This can also be played in teams with players standing either side of the line of cones. The winning team is the first to knock all the balls off. For more than 4 players make 2 lines of cones and balls to hit.