DAILY CHALLENGE: CHEST PASSES
How many Chest passes can you complete with a partner in 1 minute? (If you don't have a partner you can do this against a wall)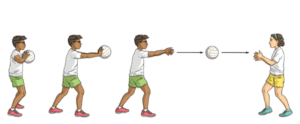 GOLD MEDAL: 55 +
SILVER MEDAL: 30-54
BRONZE MEDAL: 0-29
DAILY GAME: TARGETS
Number of players: 1+
Equipment:
Hoops, flowerpots, buckets
Beanbags, balls – as many as you like.
Something to indicate a throwing line. 
Playing Space:
Garden, yard or inside (eg hall) but if playing inside make sure there is nothing which can be damaged or broken.
Set up a variety of targets using the equipment and a throwing zone to stand behind. Put a score for each target on a piece of paper in front of the target (eg the target furthest away may score the most points).
Aim:
To score as many points as possible by throwing the balls and beanbags into the targets
How to Play:
Stand behind the throwing line and throw the bean bags/balls from the throwing zone into the targets and keeps count of your score. Try to beat your score each time you play. Have 3 goes.
If there is more than one player, each player needs the same number of balls/beanbags and the winner is the one with the highest score after all the balls/beanbags have been thrown. This can also be played in teams with 2 sets of targets and team members throwing in turn.
Variations:
Move targets nearer or further and increase the number of targets or decrease the size.