DAILY CHALLENGE: BURPEES
How many 'Burpees' can you complete in 30 seconds?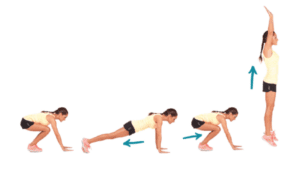 GOLD MEDAL: 15 +
SILVER MEDAL: 8-14
BRONZE MEDAL: 0-7
DAILY GAME: RACE AGAINST TIME
Number of players: 1+ 
Aim:
Warm-up and beat your time!
Playing Space:
Garden or outdoor space, between two lines or an out and back route.
How to Play:
Move from the start line to the finishing line, or if out and back round an object and back to the start line as fast as possible, doing the following:
Running
Fast walking
Hopping on left leg
Hopping on right leg
Skipping
Crawling on all fours
Sideways
High knees
Low large steps
Jumping with 2 feet together
Hopscotch
Zig zag jumping
Add up the total time taken, write it down and then go again trying to beat your time.
If there is more than 1 player go against each other, or for lots of players work in teams.