DAILY CHALLENGE: KNEES KEEPY-UPPIE
How many 'Keepy Uppies' can you do, using your KNEES only?
GOLD MEDAL: 10 +
SILVER MEDAL: 5-9
BRONZE MEDAL: 0-4
DAILY GAME: NOUGHTS & CROSSES
Number of players: 2+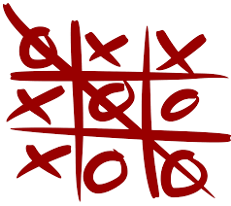 Equipment:
A grid which can be made out of string, rope or garden canes.
5 objects of the same type or colour per player (eg plastic bowls, flowerpots, toys, beanbags)
Playing Space:
Garden or indoor room with enough space to move from a starting line to the grid. Set up a noughts and crosses grid using the string/rope or canes at one end of the playing space.  At the other end of the space mark the starting line. Each player has a group of the same 5 objects.
Aim:
To create one line of 3 cones either up and down, across or diagonally (like noughts and crosses) 
How to Play:
Each player stands behind the starting line with his/her objects.
On the word "go" the players run to the grid with 1 of their objects and places it into an empty square before running back to pick up another object. Play continues until 1 player has made a line of 3 (down, across or diagonally).
Variations:
Players walk, jump, pigeon step, heel toe, walk on toes etc.
For more than 2 players teams can be created with layers taking turns to go, or more grids can be set up.