DAILY CHALLENGE: FEET KEEPY-UPPIE
How many 'Keepy Uppies' can you do, using your FEET only?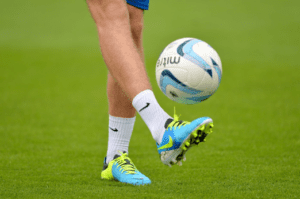 GOLD MEDAL: 20 +
SILVER MEDAL: 10-19
BRONZE MEDAL: 0-9
DAILY GAME: TRAFFIC LIGHTS
Number of players: 1+ leader but it's fun with more players
Aim:
Warm up and get active! 
Playing Space:
Garden, park, indoors 
How to Play:
The leader issues instructions and the player performs the actions as quickly as possible. Play for 2 minutes and then change, taking turns to be the leader.
Red – player stops
Amber – player jumps on the spot
Green – player jogs around
Traffic jam – player walks around heel to toe
Car Crash – player falls down
Indicate (right or left) – player waves arms up and down (right or left)
Roundabout – player goes round in a circle on the spot before continuing
Variations:
Player starts behind one line and must try to reach a line on the other side of the playing area while obeying the instructions
Issue more than 1 instruction to see how many can be remembered.
This can be played with any number of players, keeping space between.