DAILY CHALLENGE: FISH & CHIPS
How many 'Fish and Chips' can you do using a tennis racquet and ball (or table tennis bat and ball)?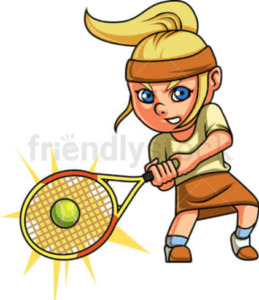 (Alternating the hits on one face of the racquet/bat to the other.)
GOLD MEDAL: 10 +
SILVER MEDAL: 5-9
BRONZE MEDAL: 0-4
DAILY GAME: BOUNCE BALL
Number of players: can be played by one player but good fun with more players split into even teams.
Equipment:
Large ball (eg netball, volleyball) (or 1 ball per team if more than 2 players), pumped up so that it bounces; 3 hoops or circles marked with string or rope. 
Playing Space:
Garden our outside space ideally. Modified version can be played inside with a soft ball.
Place 3 hoops/circles in a line in front of the player and mark a throwing line before the first hoop.  Each hoop has a different score, starting with the lowest score nearest the throwing line (eg 1 point, 2 points for the middle hoop, 3 points for the furthest hoop).
Aim:
To score the most points within 2 minutes.
How to Play:
The player stands behind the starting line with the ball. When the clock starts he/she bounces the ball into the hoops, trying to score the highest number of points. The ball is retrieved, the player returns to the start line and throws again.
If there is more than 1 player, players can stand either end of the hoop line, with the scores being adjusted so that the hoop nearer to the throwing line for each player scores fewer points. Players have the same number of throws each before adding scores. The highest score wins.
This can also be played in teams with 2 lines of hoops. Each team needs a ball.