DAILY CHALLENGE: UNDER ARM THROW
Using a tennis ball, how many under arm throw and catches can you and a partner complete in 30 seconds?
** You must stand at least 5m apart**
(If you don't have a partner you can use a wall)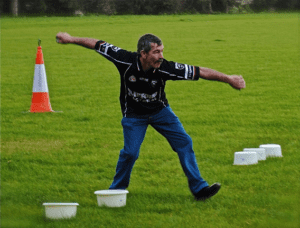 GOLD MEDAL: 30 +
SILVER MEDAL: 16-29
BRONZE MEDAL: 0-15
DAILY GAME: DOMES & DISHES
Number of players: at least 2
Equipment:
Cones, flowerpots, plastic bowls – at least 30 items which can be positioned like a dish or turned the other way up like a dome.
Playing Space:
Garden, room, hall depending on the number of players.
Aim:
To be the player with the most 'domes' or 'dishes' left
How to Play:
Decide which player(s) is the "domes" and which is the "dishes".
All objects are put into the playing space, half turned one way up and half turned the other way up.
On the word 'Go!' the players enter the playing space and try to turn the objects the right way for their name (dish or dome). The winning player is the one which has the most objects turned their way up in the playing time.
Variations:
Move around the playing space in different ways (hopping, all fours, sideways etc)